Finding Products
There are two ways in which you can search for a product on OpenChinaCart.com. The first way, is you can click on the categories label on home page toolbar to browse for the item you are looking for.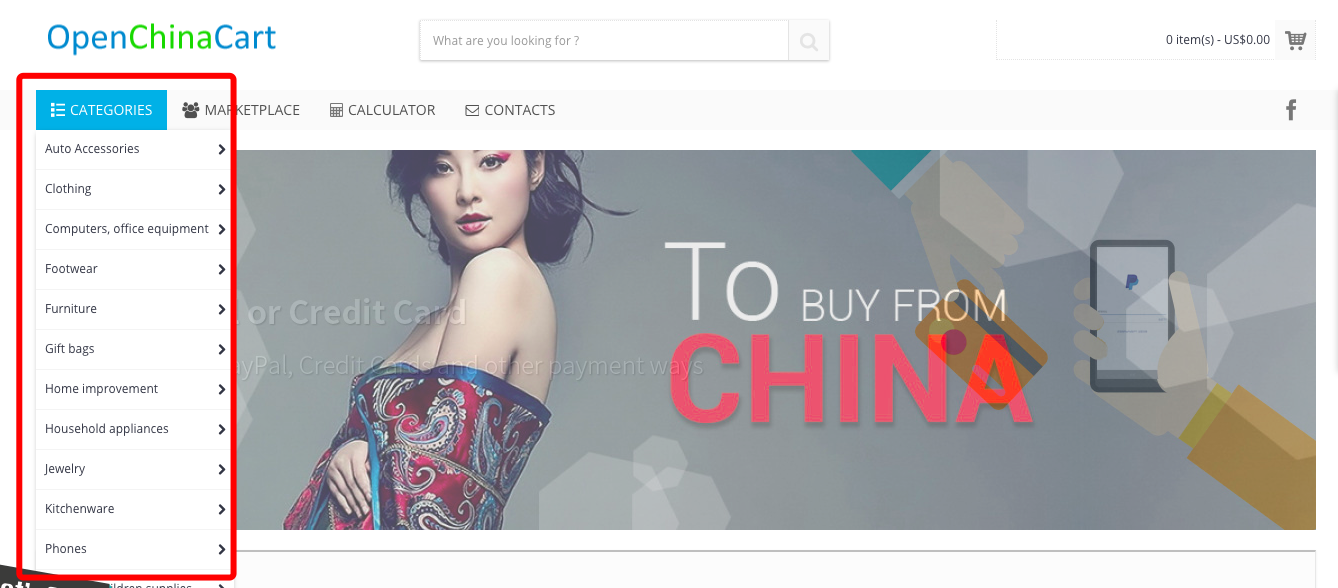 The second way, is to directly enter the name of the product you are looking for into the search box; press enter and wait for the results.

Placing Orders
Once you have found a product you like, make sure you check out the product details; such as size, and color. Select the quantity you would like to buy and when you're ready to place your order, you can click "Buy Now" and then continue onto the checkout.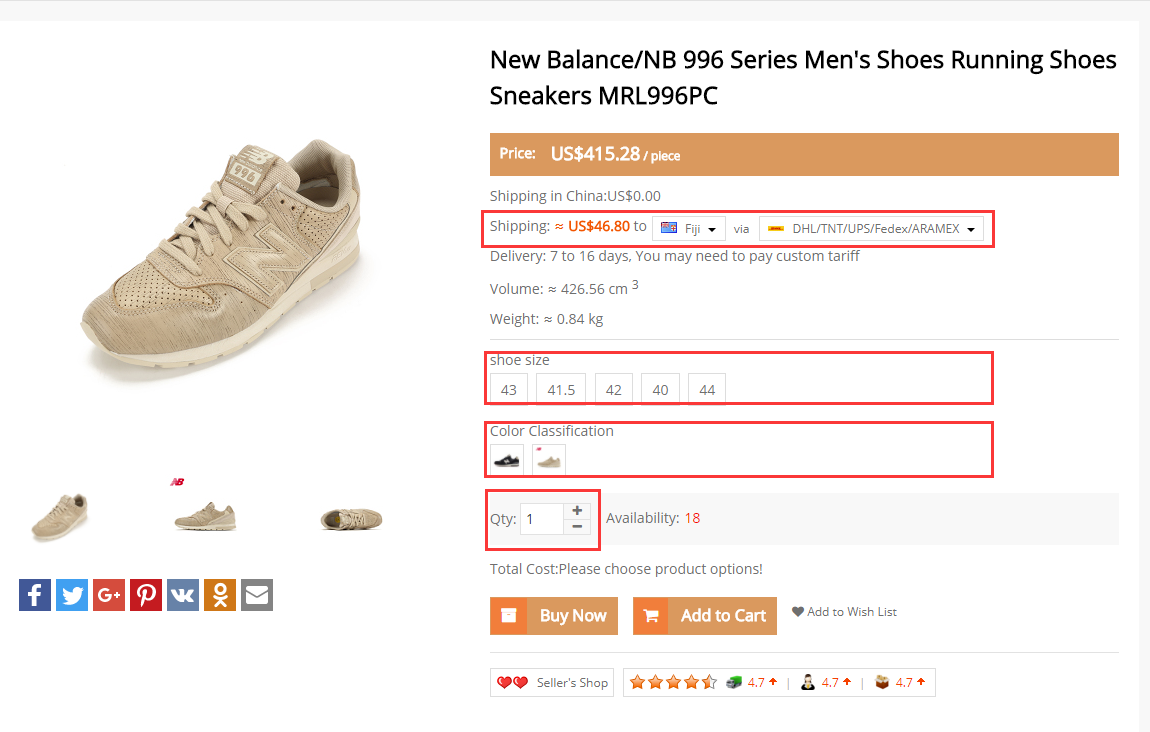 Shopping Cart
If you are buying multiple items, no problem! All you have to do is "ADD TO CART" first and then continue your shopping.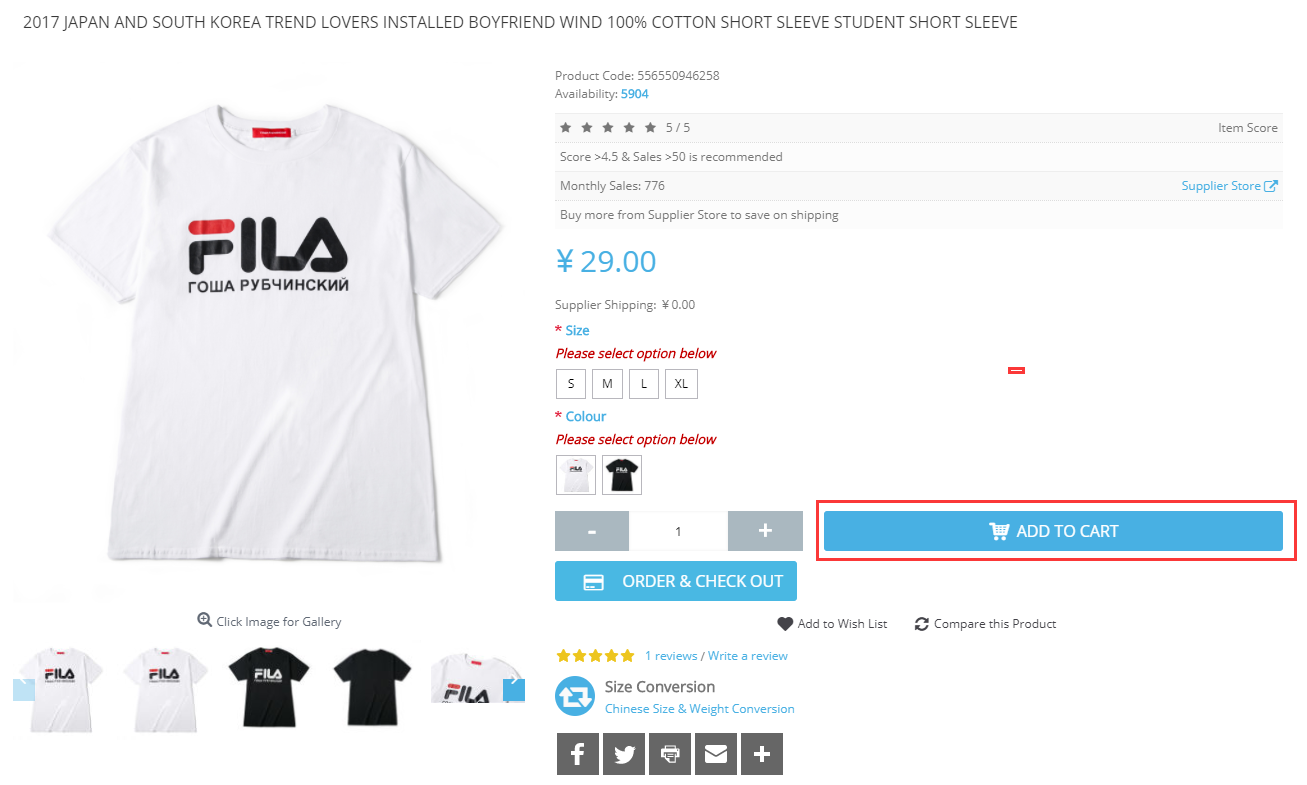 Once you have finished your shopping you can click "View Cart" to review all items you wish to purchase.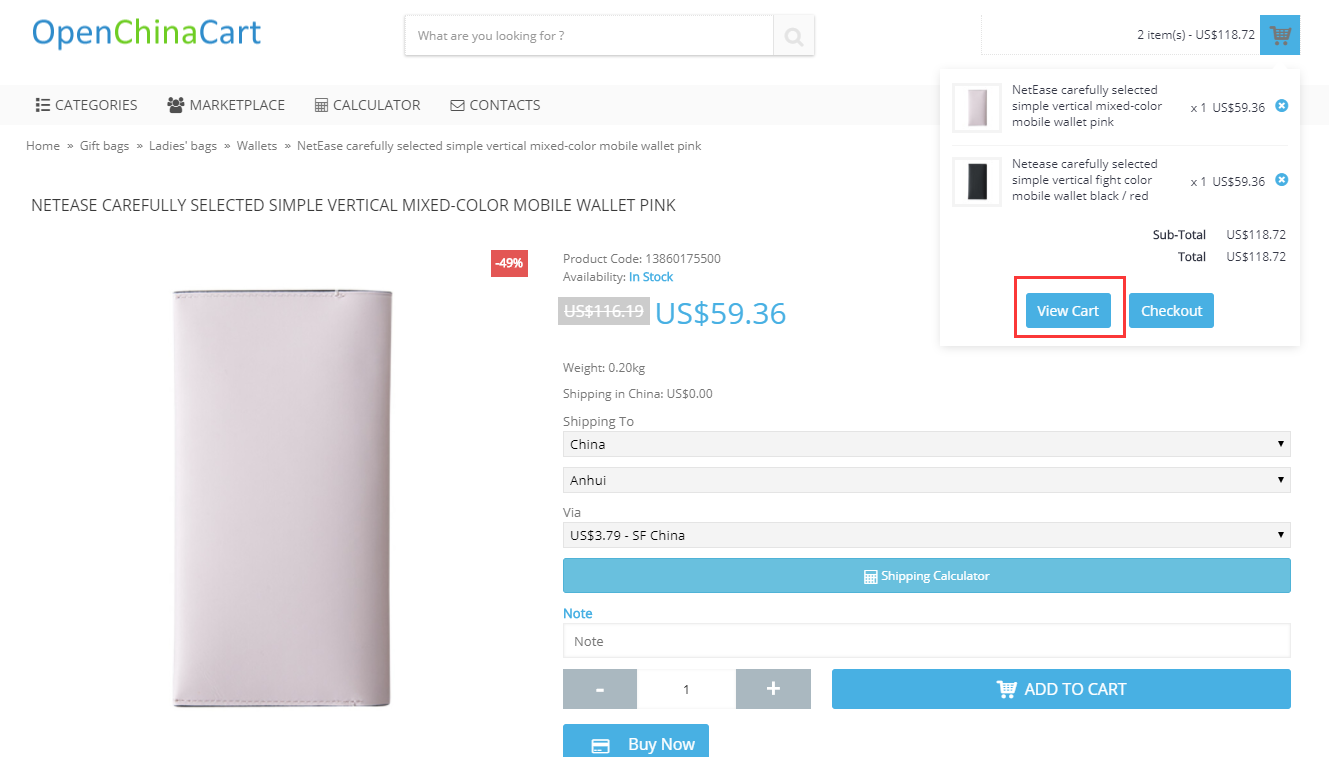 Before you decide to check out, and pay for your order you can go into your shopping cart and manage what you want to do with the items in your cart. You can add or change quantities, remove any items you no longer wish to purchase or even do a partial checkout.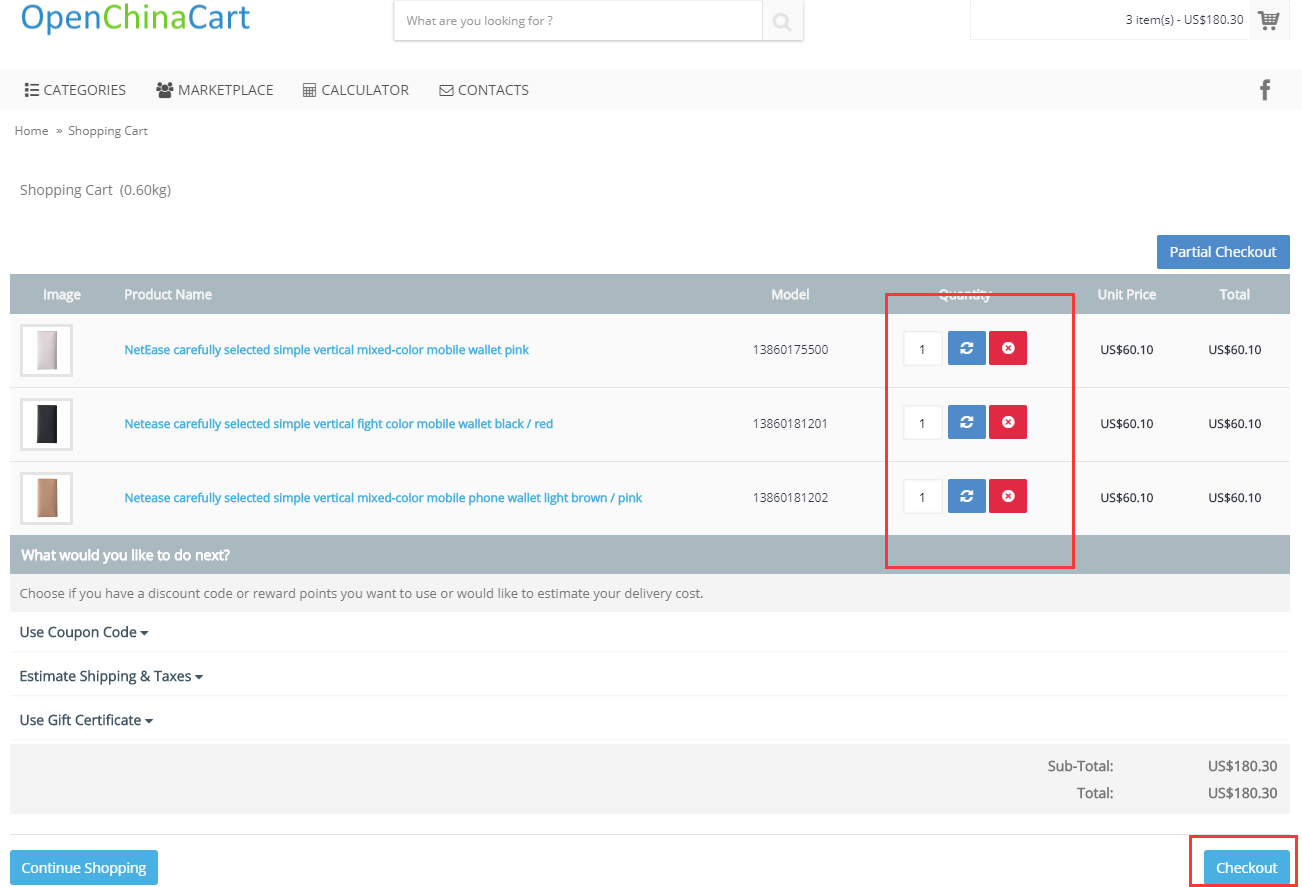 Partial Checkout
If your pressed for time, not sure of an item and want to ask the seller a question; not a problem! You can do a Partial Checkout, of the items that you currently wish to buy. Just follow the steps below and you'll be on your way...
Steps:
1.) Click on your Shopping Cart.
The Shopping Cart Icon can be found on the top right hand corner of your screen.
2.) You will now see a screen with a list of all the item(s) you wish to buy.
3.) Click on the Blue "Partial Checkout" button.
This button can be found in the top right hand corner of your itemized shopping cart, see below print screen example for reference
4.) Click on the item, or items from your list that you wish to purchase now.
5.) Click on the Checkout button.
6.) Follow the Check Out Steps to pay for your item(s).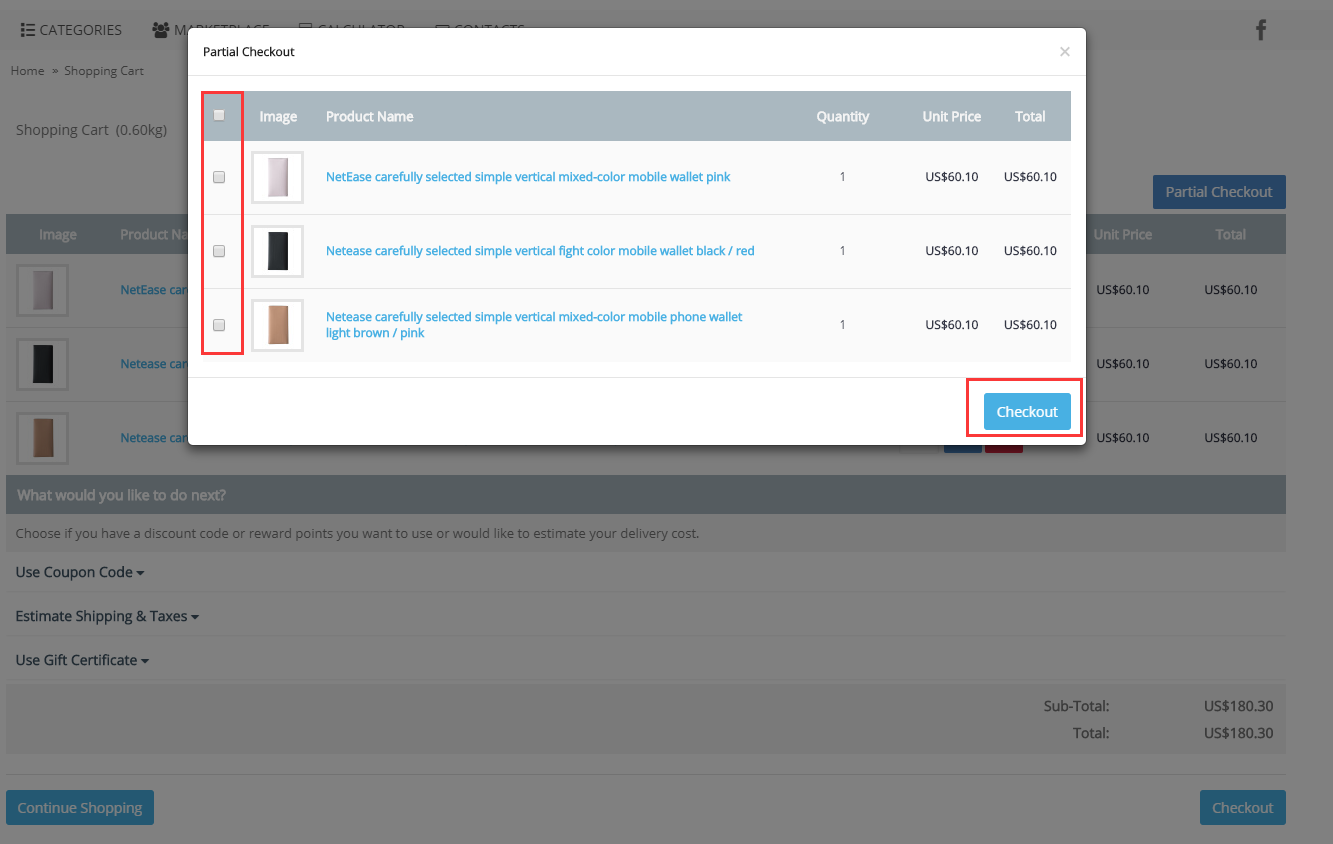 Check Out
On the checkout page please pay special attention to the billing address, delivery address, shipping method, payment method and your shopping cart.
If you happen to have any coupons for product discounts this is where you can redeem them. Simply type in the codes and press "Apply". This is also your chance to add any comments you may have about your order before you click "Confirm Order".